Our Community Grants Committee is no longer accepting applications for our 2023 Fall distribution.
---
Our recipients for the 2022 fall distribution: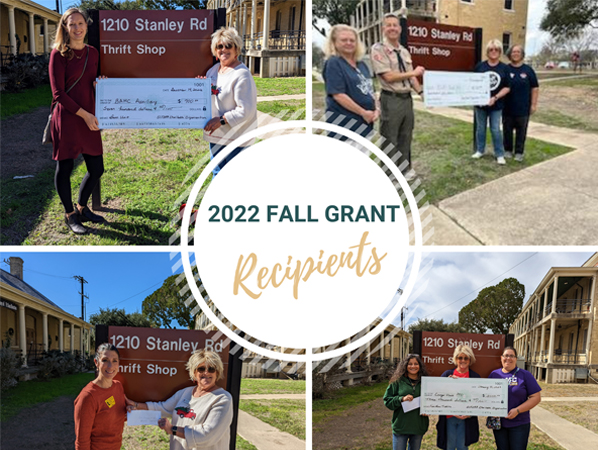 | | |
| --- | --- |
| Robert G Cole High School – Project Graduation: Food and T-shirts for All-Night Grad event | $2000.00 |
| Robert G. Cole High School – Swim team; swim bags & fins | $2800.00 |
| Scouts, BSA, Pack 23 – Field Trip to WWII carrier | $750.00 |
| BAMC Auxiliary – Clothing for the burn unit | $700.00 |
| Fort Sam Elementary PTO – T-shirts for Fun Run | $3000.00 |
| Total amount awarded | $9250.00 |
Proceeds from our wonderful Fort Sam Houston Thrift Shop generate funding for community grants. We extend a sincere "thank you" to our customers, consigners, volunteers, and employees for making these grants possible to better the JBSA Community.
APPLICATION GUIDELINES:
The Spouses' Club of the Fort Sam Houston Area Charitable Organization (SCFSHA-CO) gives Community Grants bi-annually.  Recipient organizations contribute significantly to the well-being of JBSA area families and to the quality of life in the JBSA-Fort Sam Houston area.
ELIGIBILITY/SELECTION: 
Any non-profit organization supporting the welfare of the Armed Forces and their families located at JBSA-Fort Sam Houston area is eligible to apply. The Community Grants Committee will make grant selections during the Fall and Spring.  All grant checks must be deposited within 90 days; if not deposited within 90 days, they should be returned to the SCFSHA Charitable Organization and a new application should be submitted the followings awards cycle.
Selection for receipt of the Spouses' Club of Fort Sam Houston Area Charitable Organization's Grant funds will be made without regard to race, sex, religion, or national origin.
---
Past Grant Recipients Include:
Robert G. Cole Music Department
BAMC Therapy Dogs
Warriors on the Way
San Antonio Uniformed Services Health Education Consortium
Semper Fi and America's Fund
Family Service Association
Cougar PTO
TAPS
Military Child Education Coalition
Boy Scout Troop 24
Girl Scouts
Semper Fi and American Fund
Angels of America's Fallen
BAMC Auxiliary
Purple Up
USO
San Antonio Food Bank
Fort Sam Houston Elementary School
Warrior Family Fund
BAMC Fisher House
Knights of Heroes Foundation
59th Training Booster Club
IPASS
Patriot Pups & Ponies
Military Family Readiness Center
US Army Birthday Ball
Cole Middle School
Cole High School
National Military Association
Cougar Paws
SAMMC Pediatrics
Dogs on Deployment
National Military Family Association
Robert G. Cole H.S. Project Graduation
Wreaths Across America
Military Readiness
Cole High School Senior Class Trip
BAMC Aquatic Therapy Center (Intrepid)
Robert G. Cole High School Band
Operation Homefront
Children's Association for Maximum Potential
Fisher House – Brooke Army Medical Center
-and others-
For more information, or if you are interested in serving on the grants committee, contact Laura Davis at grants@scfsh.org.
The SCFSHA Charitable Organization is not part of the Department of Defense or any of its components.  It has no governmental status.
---