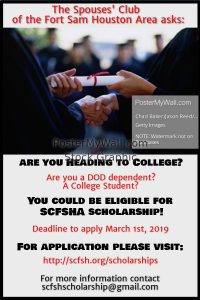 SCFSHA Scholarships will open on December 1, 2018.  The deadline to apply is March 1, 2019.  Please visit SCFSH.org/scholarship and click on the  Scholarship tab to find the appropriate application for your category. Please pay attention to the following changes in the eligibility requirements for this year.  Spouse applicants may now apply for a second SCFSH scholarship even if they have received one in the past and must be a member of SCFSHA.  Second, one (1) parent MUST BE A MEMBER of SCFSHA by December 31, 2018  in order for a dependent child (high school or continuing college) to apply for a scholarship.  You may contact SCFSHAmembership@gmail.com for more information on joining the club.
---
High School Senior Application
Undergraduate Student Application
MAIL TO: 
Spouse's Club Scholarship Committee
c/o Scholarship Chairperson
PO Box 340209
Fort Sam Houston, TX 78234
You will find all information regarding eligibility and application requirements at SCFSH.org/scholarship.   If you need more information, please contact the Scholarship Chairperson at scfshscholarship@gmail.com.
NON-DISCRIMINATION STATEMENT
Selection for receipt of Spouse's Club of Fort Sam Houston Scholarship funds will be made without regard to race, sex, religion or national origin.