WE ARE OPEN!!!!  
10:30-2:30 for shopping  
10:30-1:00 for consignments
CONSIGNERS:  Every consigned item in the store expired while we were closed.   We are extending your contracts!  Below you'll find the new expiration schedule.  Be sure to check the dates on your contracts!!  EXCEPTIONS to the extension are fall and winter clothing to include boots.

We are going to try reopening again – this time on St. Patrick's Day – March 17, 2021!!!  See you in a couple weeks!!
NOTICE!!!!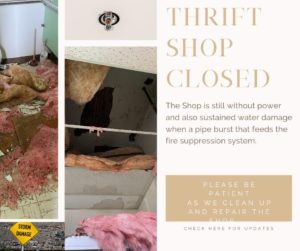 We are NOT reopening this week.  Unfortunately we are still without power and the full extent of damage due to the recent storm has yet to be assessed.  Please be patient as we work with Fort Sam to clean up and repair our beloved Shop.  Thankfully, no one was hurt, the building is structurally sound and 99% of the merchandise is in good shape.  Stay tuned for updates on our progress.
When we do re-open:  
Masks required for entry.  Social distancing measures will be in place and limited number of folks in the Shop at any given time.  Bathrooms/Dressing Room closed.  Hand sanitizer at entry and throughout the shop.
12 items accepted at consignment BUT contract/ghost tags must be filled out prior to coming in.  Check the Do Not Take list below.
.