Watch here for further updates!!!!
The Thrift Shop would like to wish our customers, consignors, donators and supporters Happy Holidays!  Mark your calendars NOW: January 6th, 2021 is our first day back and January 9th is our first Saturday!! We'll see you next year!!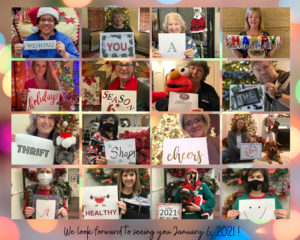 The Thrift Shop of Fort Sam Houston is a 501(c)3 Private Organization sponsored through the Spouses' Club of the Fort Sam Houston Area's (SCFSHA) Charitable Organization.  Proceeds from a percentage of consignment sales as well as earnings generated from donated items are contributed to SCFSHA Charitable Organization.   The main purpose is to provide scholarships to military family members and community grants to various organizations within the Fort Sam Houston Area.
Hours Guidelines & Permanent Do Not Take List Forms Weekly Do Not Take
Anyone can shop at the THRIFT SHOP!!  
Our mission allows us to provide authorized personnel of the Fort Sam Houston community a convenient way to sell gently used items or to purchase previously owned merchandise.  
Our wonderful volunteer staff are here to assist you with your Thrift Shop experience.  We encourage you to visit the store!!! We think you'll like it so much, you just might sign up to volunteer!
Find us at:
1210 Stanley Rd, Bldg.123
Phone: 1-210-899-1515
Email: ThriftShop@SCFSH.org
The SCFSHA Charitable Organization is not part of the Department of Defense or any of its components.  It has no governmental status.